How It Works
Every Body Style Is Unique.
Scrubs have come a long way to become much more fashionable and more flattering throughout the years to fit each of those body styles. People needing to wear scrubs are no longer stuck with a unisex, one-size-fits-no one scrub top and pant that is boxy, miserable, and either too long, too short, too big, or too small—or some of each, and then somehow fits differently 2 washes later.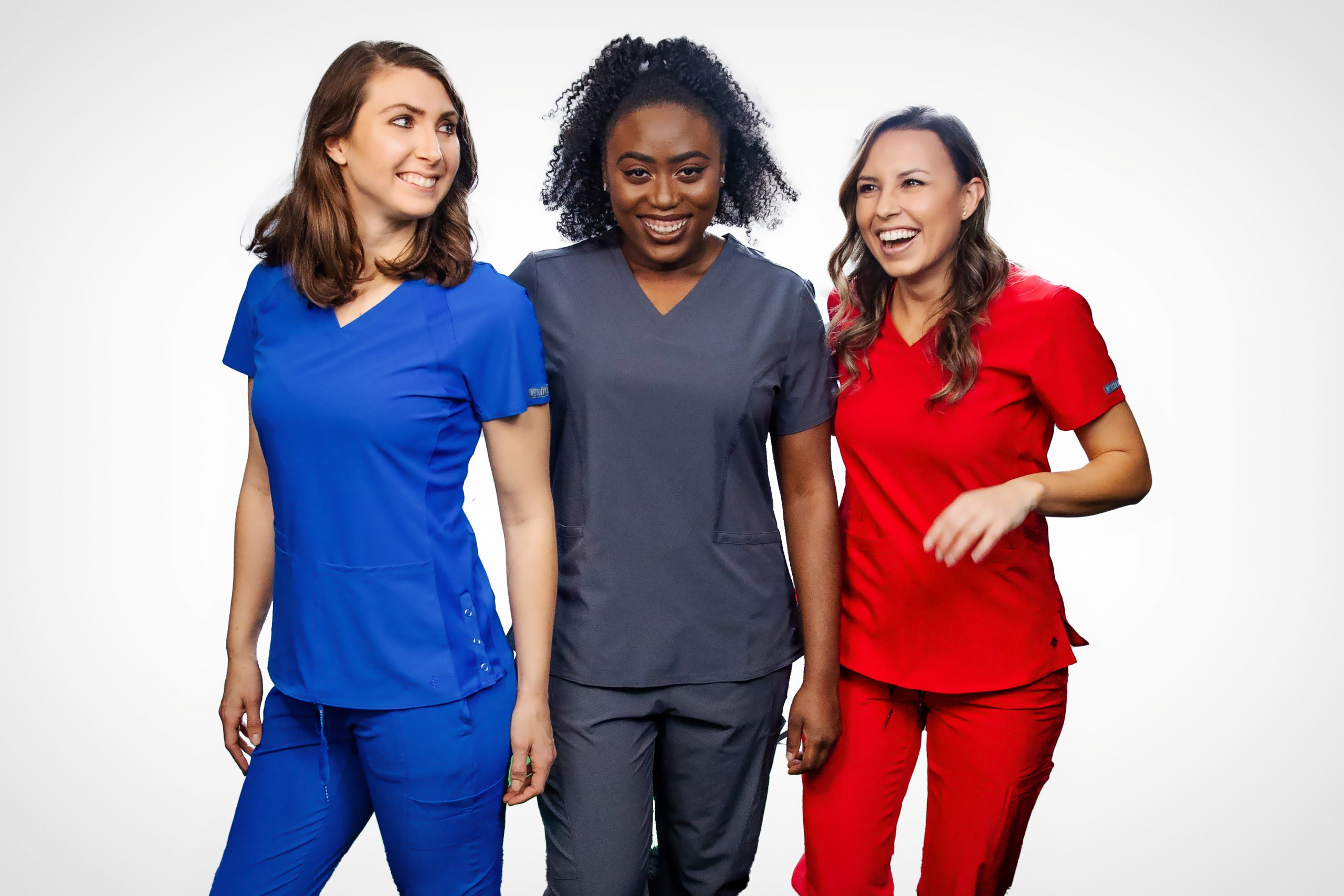 How It
Started
Your favorite scrub companies release scrubs in new lines, styles, or colors every season to give you new options to look your best. They all have teams in place working to provide as many fit options for body styles and provide as many looks for you as possible. It may be called a "uniform", but they're trying to keep it anything but uniform.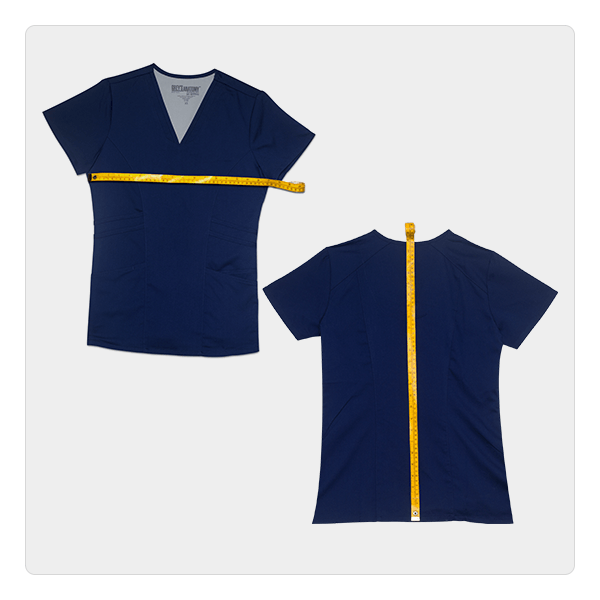 What Makes Us
Different
4Luvofscrubs provides you the new styles, new brands, and for those that have the option, new colors as frequently as you'd like for a $30 subscription fee over the same period. That $30 is applied towards your box cost.
If you have a favorite pair of scrubs, take a picture of the tags from the top and the pants. On the tops, they are on the bottom (usually on the left, but can be on the right), and in the pants, they are right inside the waistline (also usually on the left, but sometimes on the right). It's always the first tag with the numbers on it; we don't need the wash instructions. Just tell us what size that top is, and what size those pants are, and we'll do the rest. If you don't have a favorite pair—or haven't worn scrubs before—that's what the survey is for. We'll need some additional details (required colors and such) and if you'd like to complete the survey as well to provide extra options, you have that option as well.
Survey and
Registration
After you complete the survey, you can pick if you want accessories or not. This isn't a yes or no permanently; you can choose to add them next time. We want you to get the most out of your shopping experience each time. After you choose any accessories (or none), you pick how often you would like to receive your box of scrubs, and you can cancel at any time without a fee.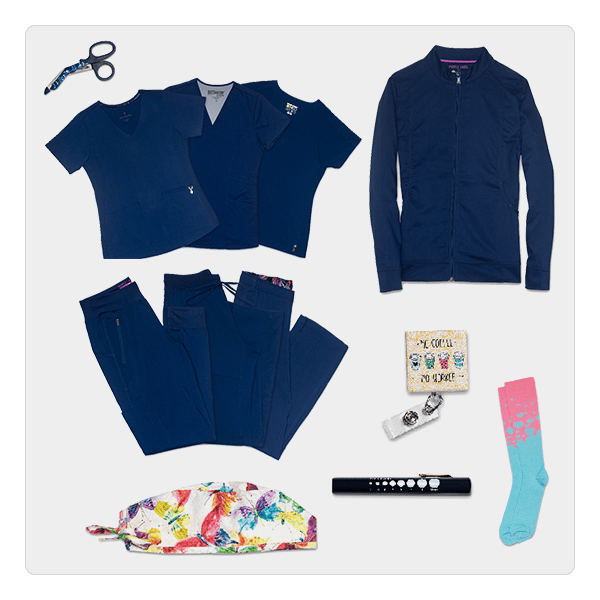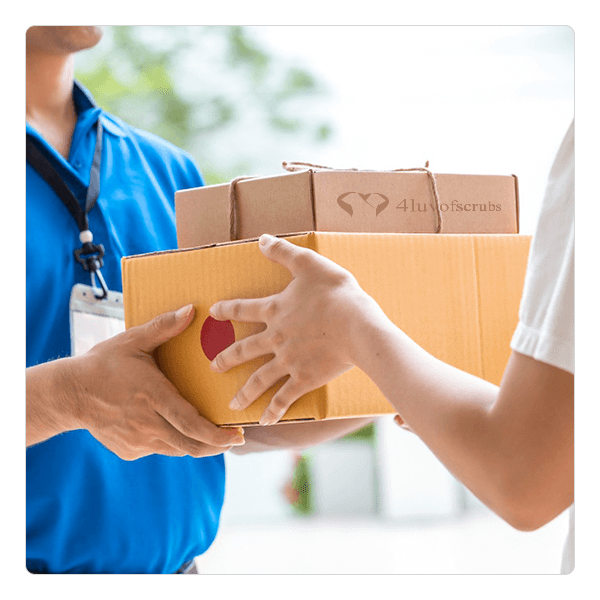 Simple and
Easy
Once you complete your survey and registration, you can expect to receive your first box within 3 weeks. You won't be charged for the box at that time; you will only be charged for what you keep in the box. You will receive 3 sets of scrubs that should fit you right out of the box based on the input from the survey and the pictures from the scrub sizes you provided. You'll have 3-5 days to try everything on from the comfort of your home, and whatever you don't want, mail back in the original box with the included pre-paid label. We'll send you a reminder e-mail/text if we haven't seen them after 7 business days to see if you need more time. If you do choose to keep everything, you'll get 20% off everything in the box! If we hadn't heard back from you within 2 weeks, we'll assume you loved everything in the box and will charge the card on file and with the 20% off (as well as the $20 off for the membership fee). You can always login to your 4luvofscrubs account and let us know which items you've elected to keep from the box and provide feedback on those you didn't like (or if you kept the entire box, what you may want differently in the next box).
You're only charged for what you keep

, and you'll get scrubs that fit you out of the box. Changing the way you get your scrubs.
What do people praise about 4Luvofscrubs


Knowledgeable, helpful, and amazing staff! David can take one look at you and pull perfect scrubs off the rack that fit amazing! If they don't have it in stock, they can order most everything. You'll never want to shop anywhere else!


I loved the fact that I walked in and was immediately helped and handed sizes I needed and perfect colors of what I was looking for he was absolutely amazing . definitely recommend this place


Great customer service and great selection. Eliza was very knowledgeable and very helpful. Ordering was easy and a quick turn around time. Highly recommend.


This place is great! Wonderful Variety of scrubs. Prices are decent and the owners are happy to help you in any way. Will recommend this store to my co-workers and friends. Thank you for making this shopping experience enjoyable.
Your First Subscription Box Is Only A Few Clicks A Way!
Once you send us the picture of the tags of your favorite scrubs and complete the questionnaire,
4luvofscrubs will match the top and pants styles to your profile.